Weekly Newsletter #20
This is my last newsletter from México, though I'm looking forward to processing the trip through writing in the near future.
Photo: My daughter eating peas at La Merced, the HUGE market in Mexico City, which felt very post-apocalyptic to me.
I've been legit journaling a bit, but mostly just scribbling down half-formed thoughts on scraps of paper while riding the CDMX Metro.
We Need Diverse Books
It's been really weird (mostly good) not to publish on Medium for weeks, but I was pretty excited when my epic list of diverse children's books got some more reads this week when We Need Diverse Books (@diversebooks) retweeted it!! Dreamy!
Ciudad de México <3
I'm glad we spent half our trip in CDMX, because ¡esta ciudad es fantastica! It reminds me a lot of Rome. I'm blown away by how easy and organized their transit system is, and holy shit SO MUCH VEGAN FOOD. And all of it so cheap and delicious.
We were lucky enough to be in town for CDMX's annual VegFest in Coyoacán. Wow, wow, wow! It was worlds better than Seattle's VegFest. First of all, it was actually all-vegan (something people in Seattle have been pushing for for years, but the organic dairy industry must pay a ton to be included).
The food was plentiful and off-the-hook, and there was a comfy courtyard to picnic in. Once we saw how epic it was, we decided to stay all day, so we got lunch then hung out until we were hungry enough to eat again, haha.
Meanwhile, Tzivia befriended a bunch of kids of all ages. Before giggling on the roof of a big playhouse, they worked together for hours building a pretend house out of sticks and pine needles and flowers. Here's a photo of Tzivia up in a tree, with the partly built fairy house on the ground below: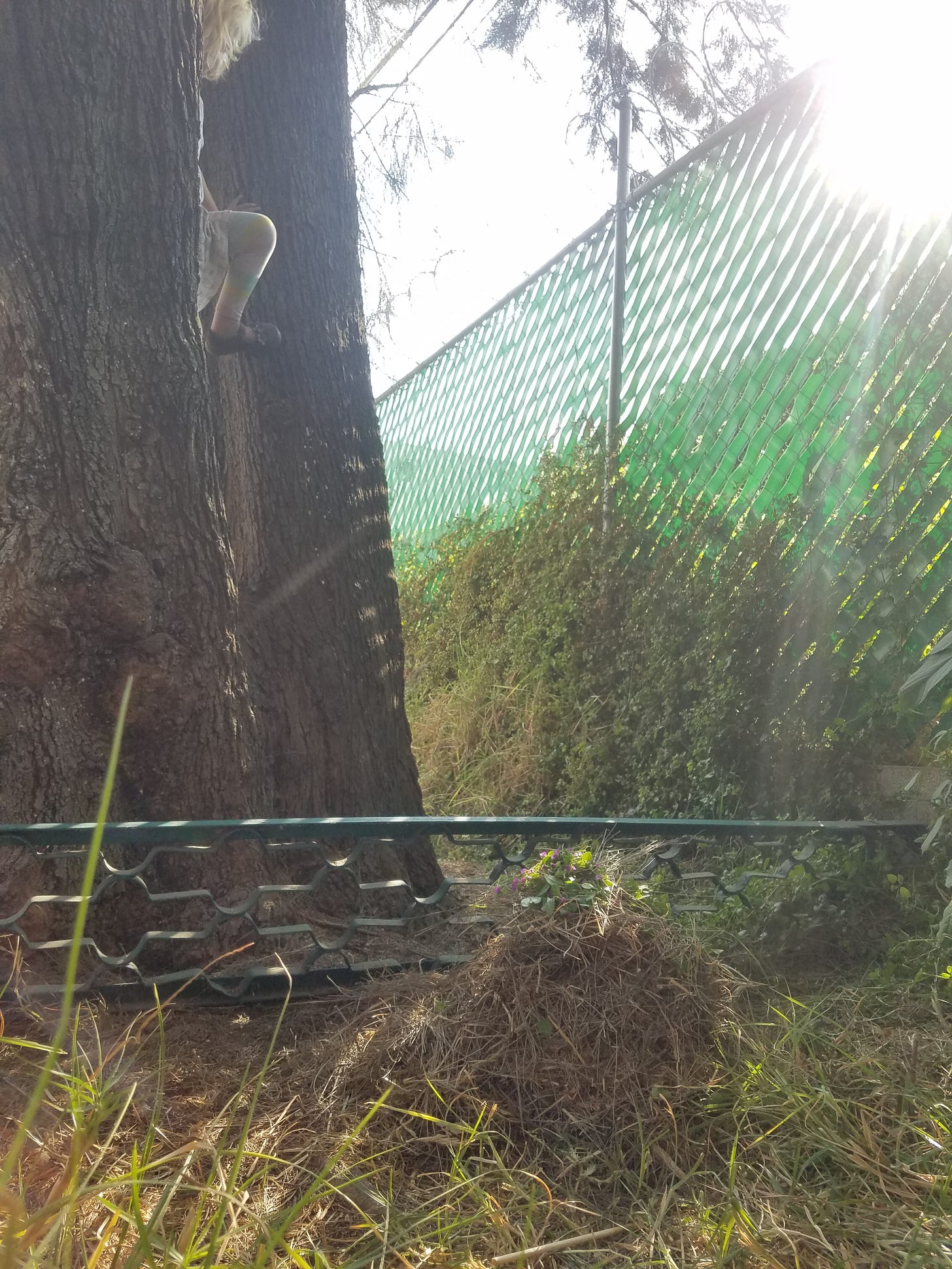 I wrote here about how hard it can be to raise a vegan kid in a non-vegan world, and these moments where we get to give her (and honestly, ourselves) a vegan world are so priceless.
Throughout the day, my family ate a cinnamon roll, deep-fried cauliflower and mushrooms, bean fritters, waffle fries, a cupcake, iced coffee, a tamale, beer, pizza, and tiramisu. All day we just ate and lounged and enjoyed utopia.
I was so proud of Tzivia for how brave she was, approaching kids to play, even though she doesn't know much of their language. And wowzers, those kids were so welcoming to her.
My kid is amazing!
My family, right before we climbed the Pyramid of the Sun in Teotihuacan:
My 5-year-old amazed me this week when she climbed up and down the third largest ancient pyramid in the world, without help, and without whining.
It was a fantastic experience for all of us, with an obviously breathtaking view.
Here's the funniest thing I've seen in Mexico.
It's always interesting to travel and see what's the same and what's different. Well, I had to take a photo, because this was the first time I ever saw tampons that came with a free inflatable unicorn.
Speaking of periods, I've written about mine before. Here's something I wrote about quitting birth control.
Friends links for my Medium pieces referenced in this newsletter:
200 of the Best Diverse Children's Books for Preschoolers
Curated in Books and Parenting / Published in Home Sweet Home
Raising a Vegan Kid in a Non-Vegan World
Self-Published on Medium
No Birth Control, For the First Time in My Adult Life
Curated in Lifestyle / Published in Mariposa Magazine
---
It was a bold move for my low-income family to take a vacation. It's hard to quit publishing, to worry about money, but the good news is, when people read and share my older writing, I can still earn money from it!
I seriously appreciate all your reads, claps—you can clap up to 50 times per piece—highlights, comments, and shares. If you enjoyed one of these Medium essays, please share it on Facebook, Twitter, or anywhere else you'd like!
Love,
Darcy